(close) X
Run Slideshow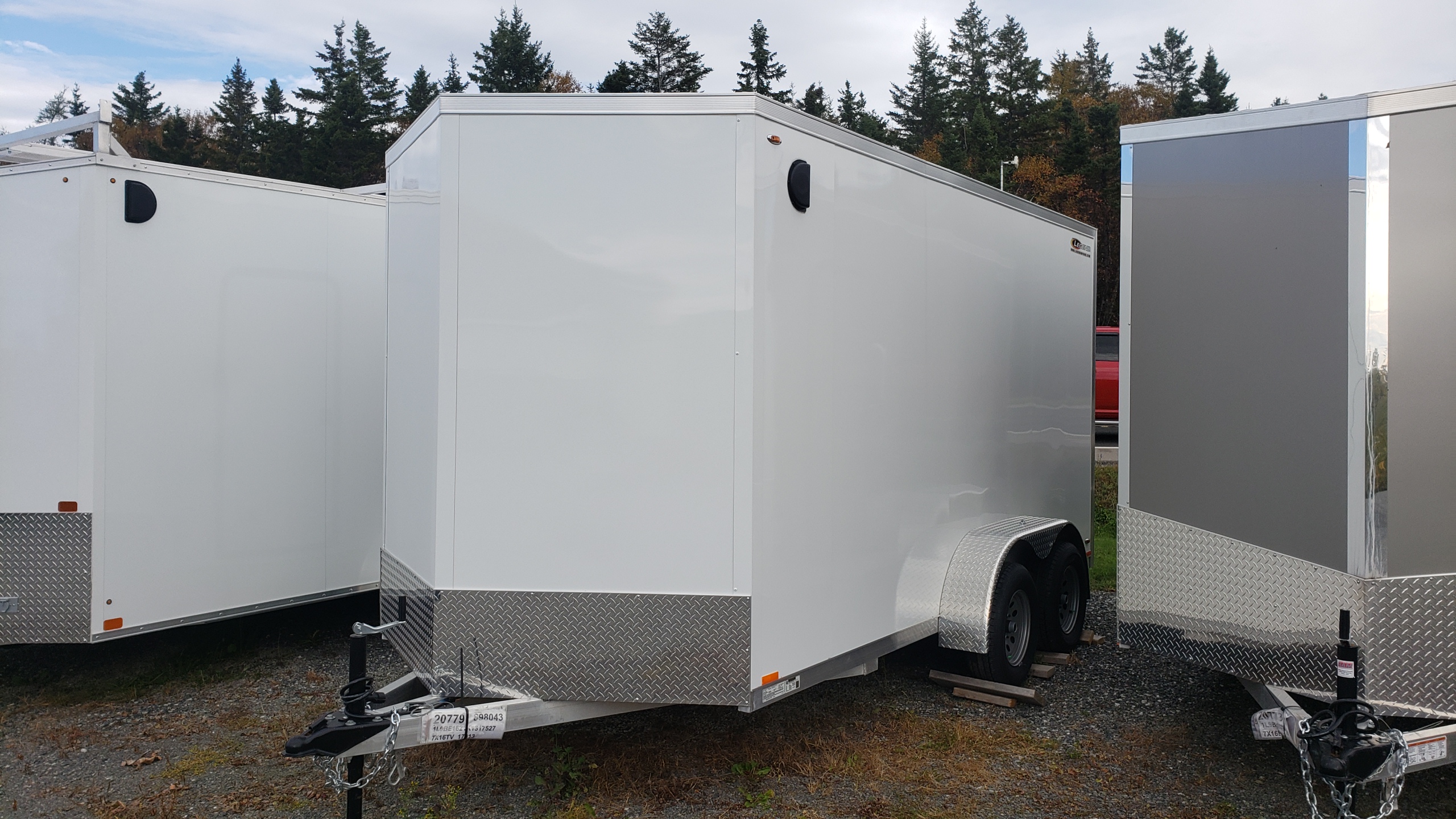 Condition: New
Stock #: LG015-K1317527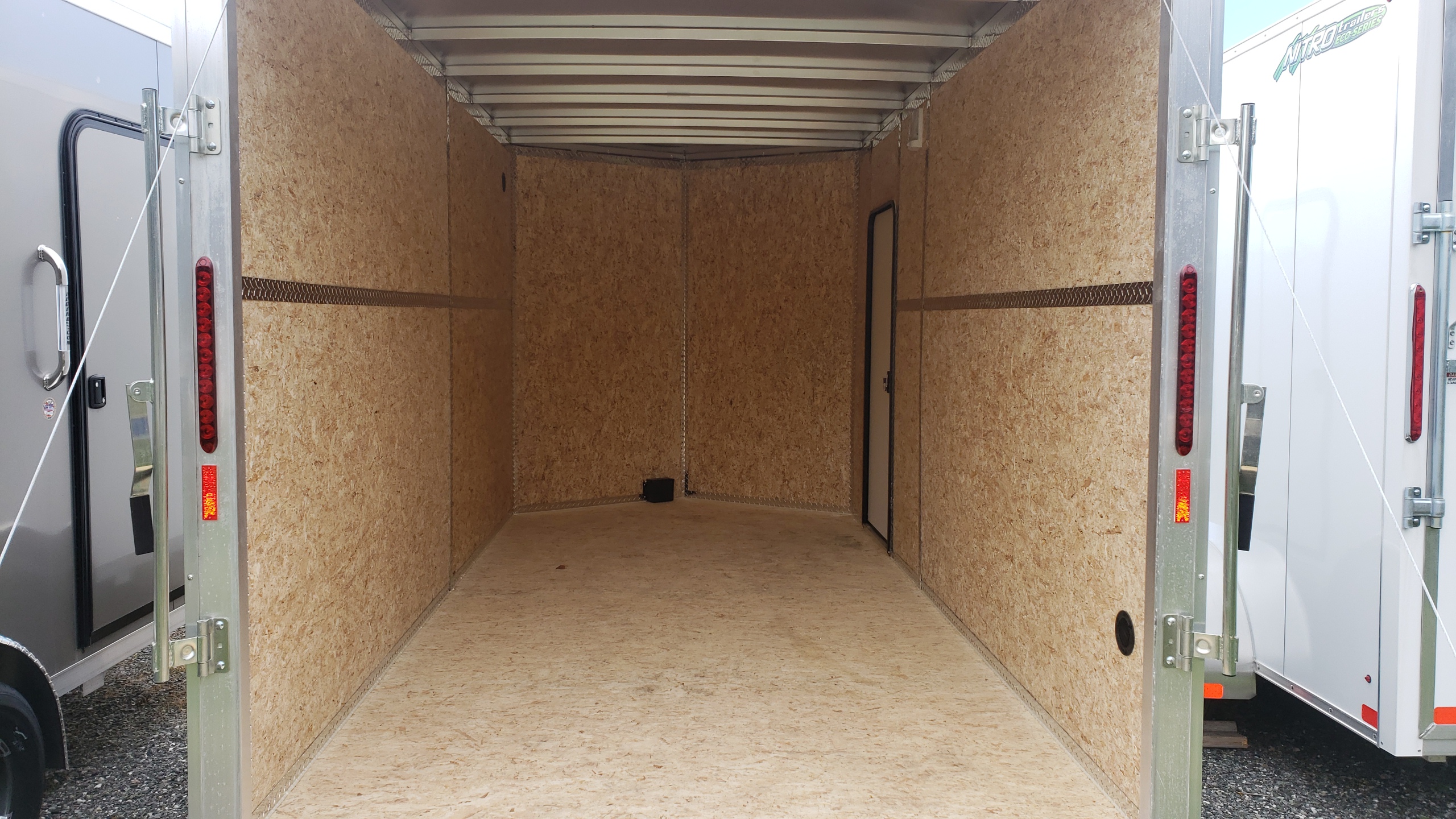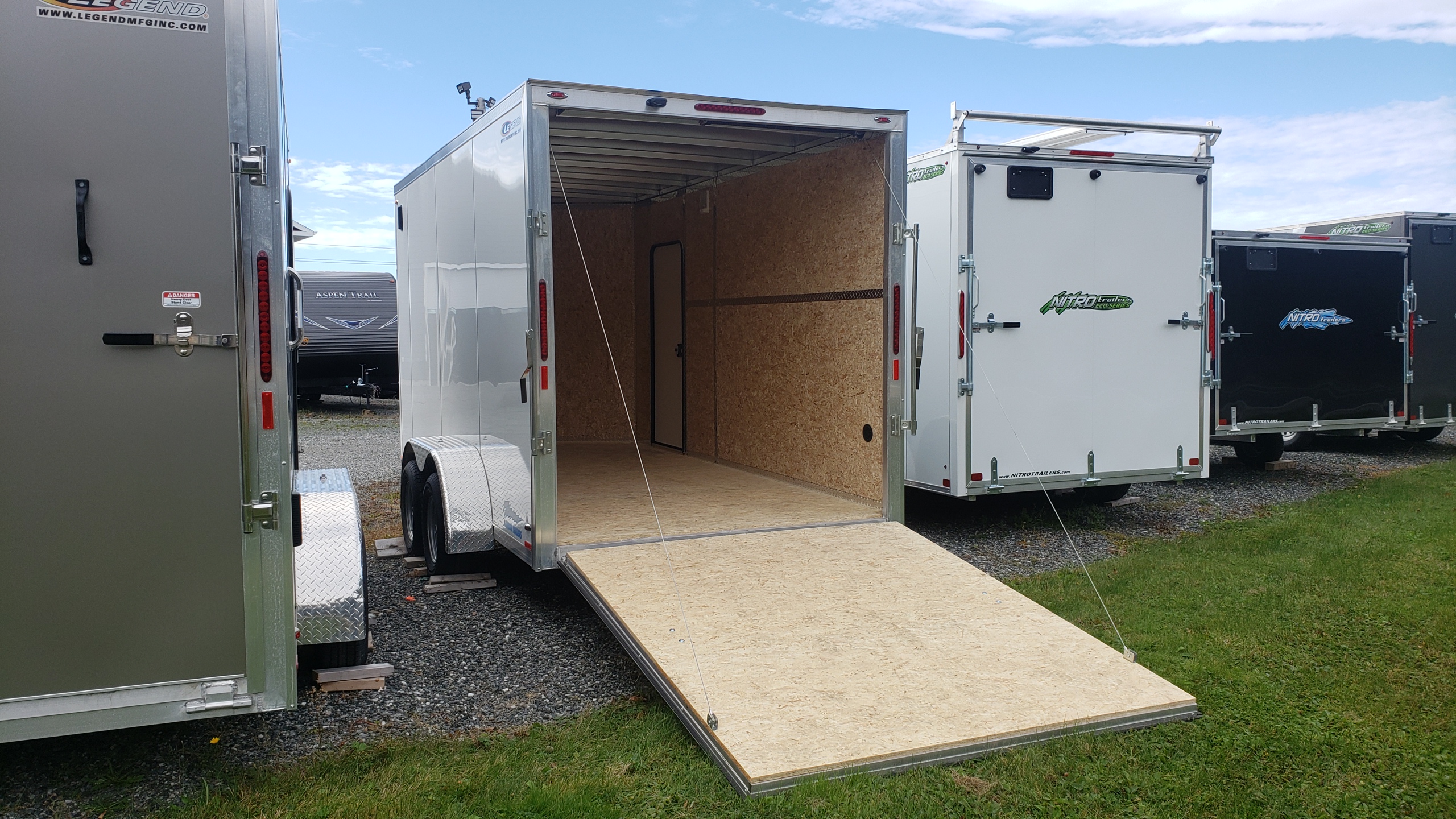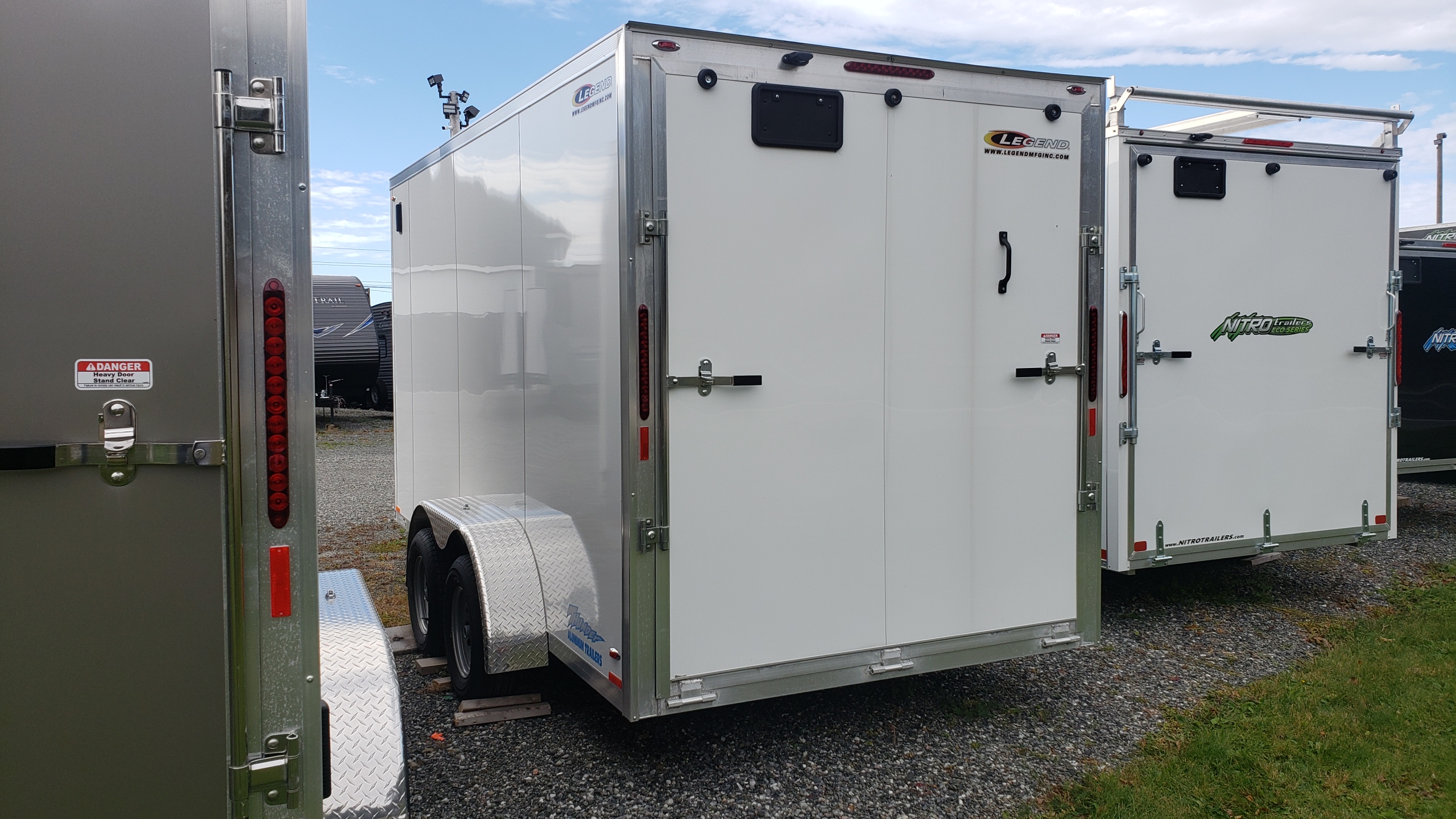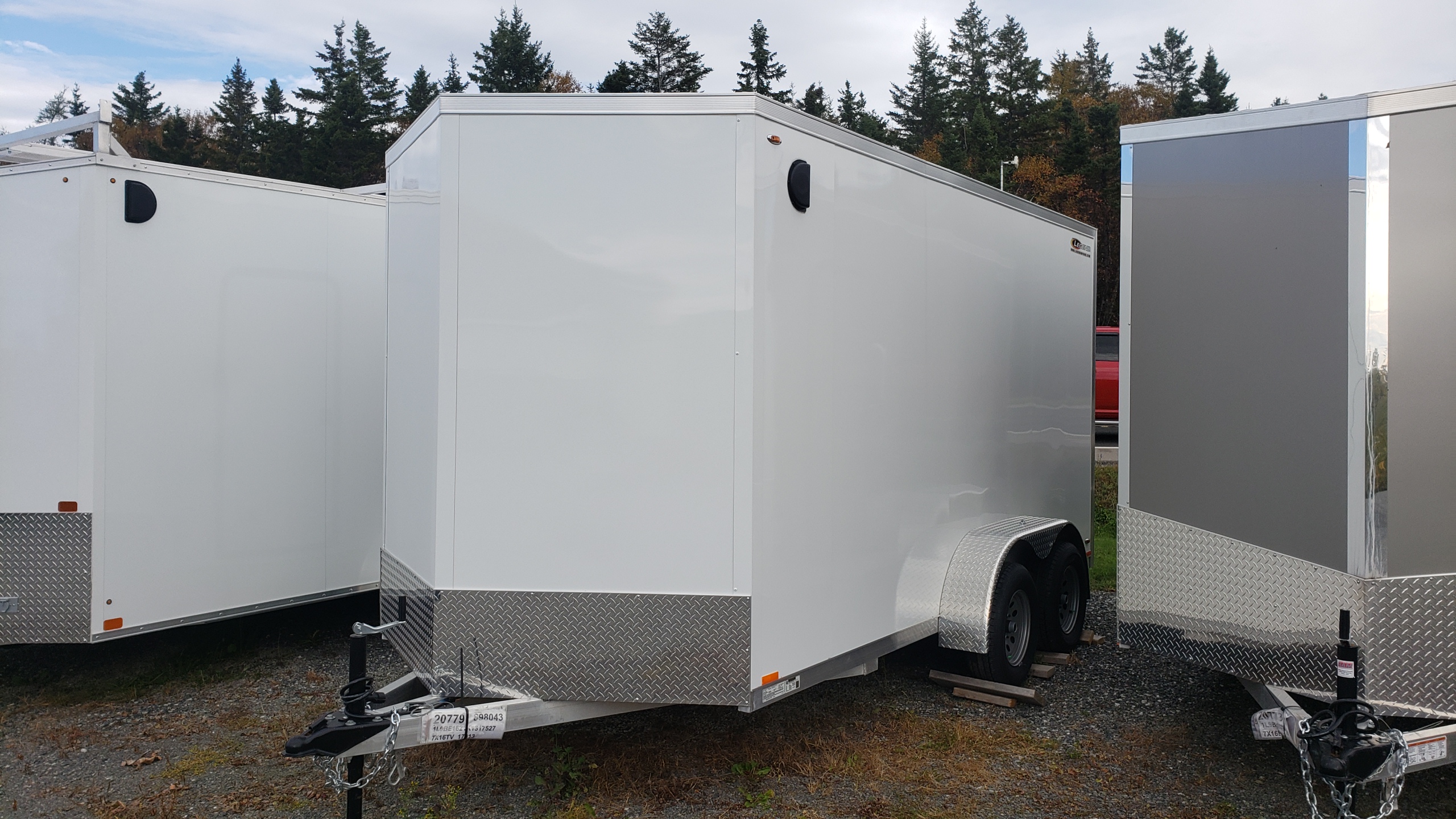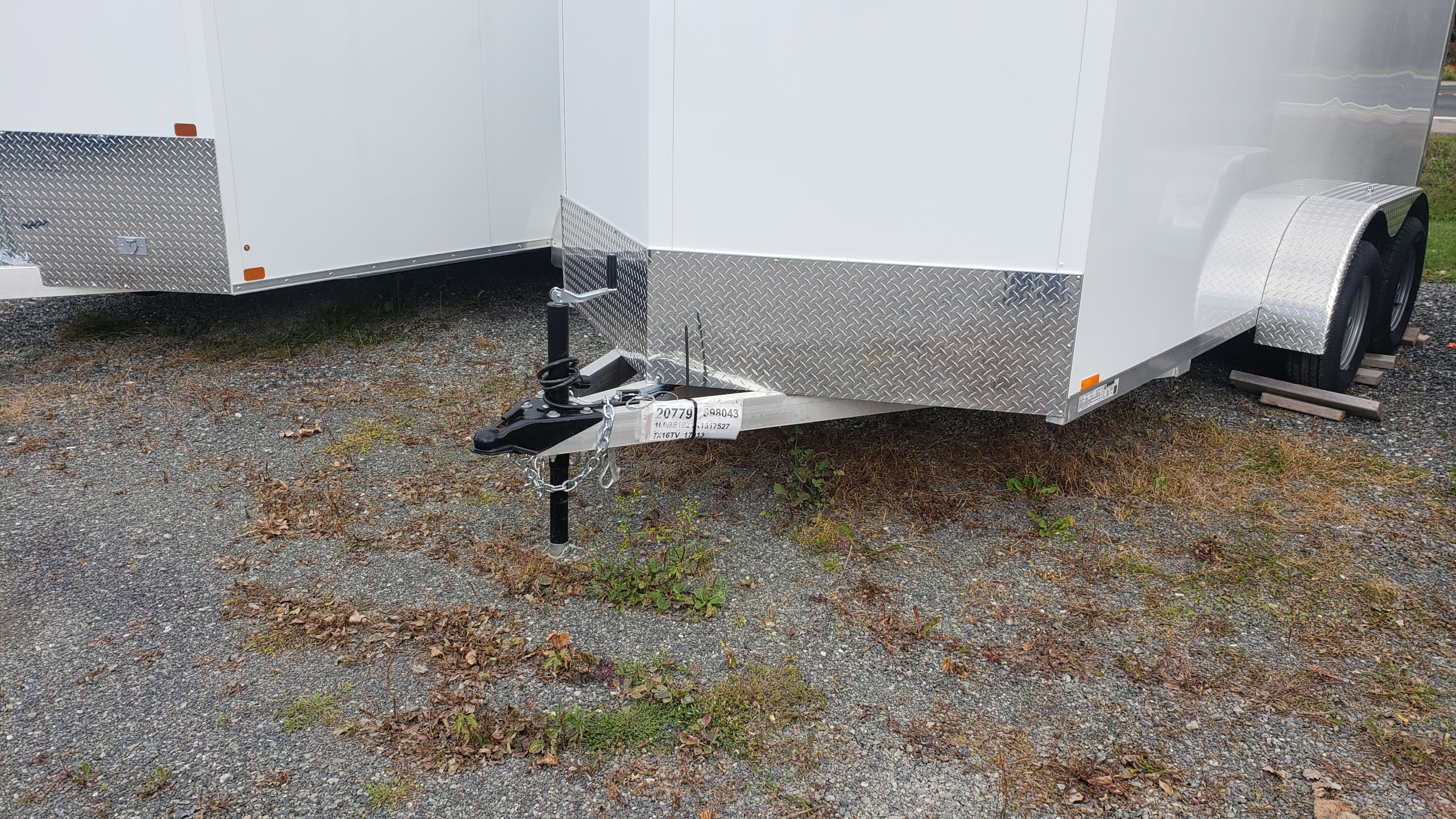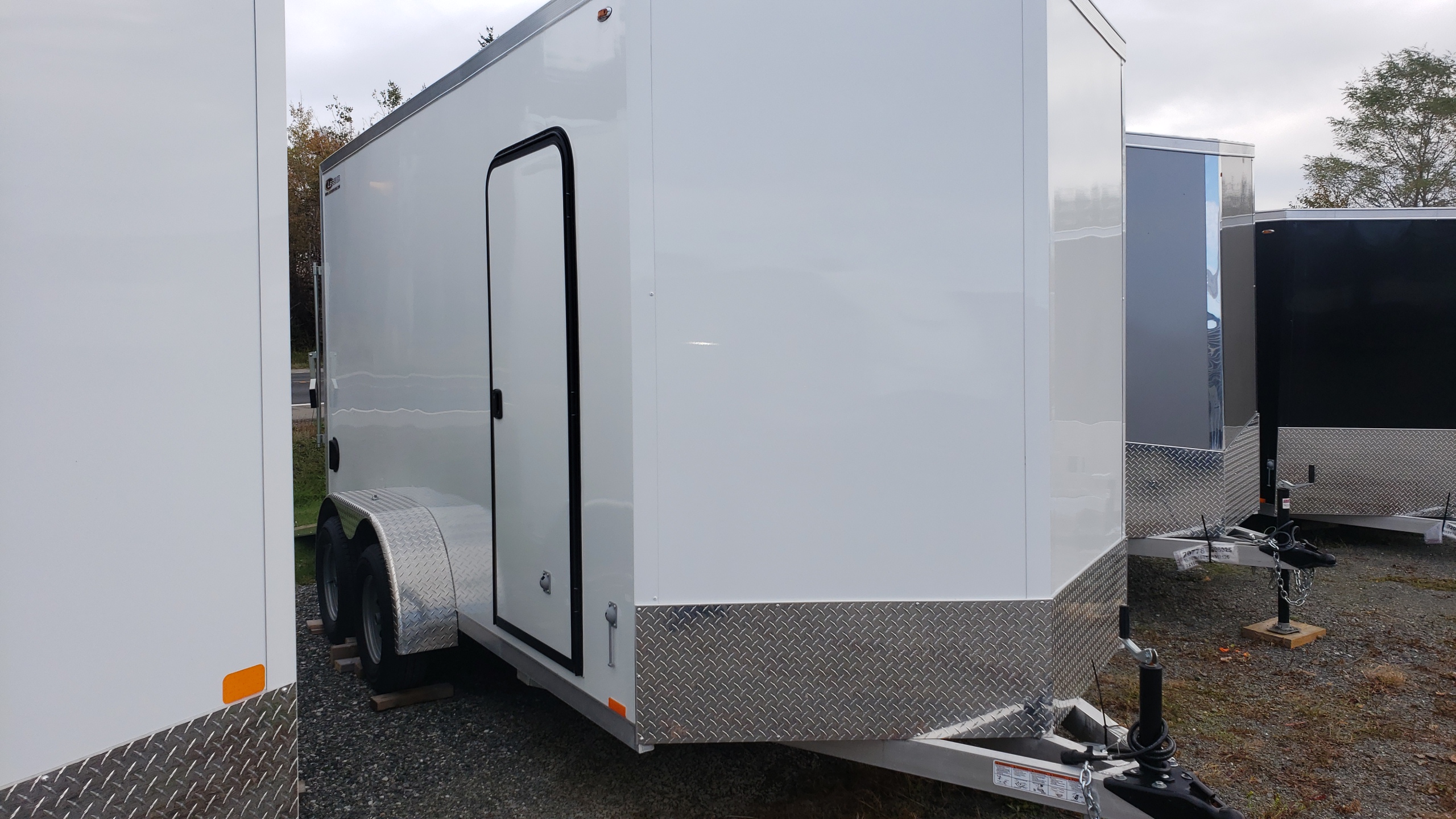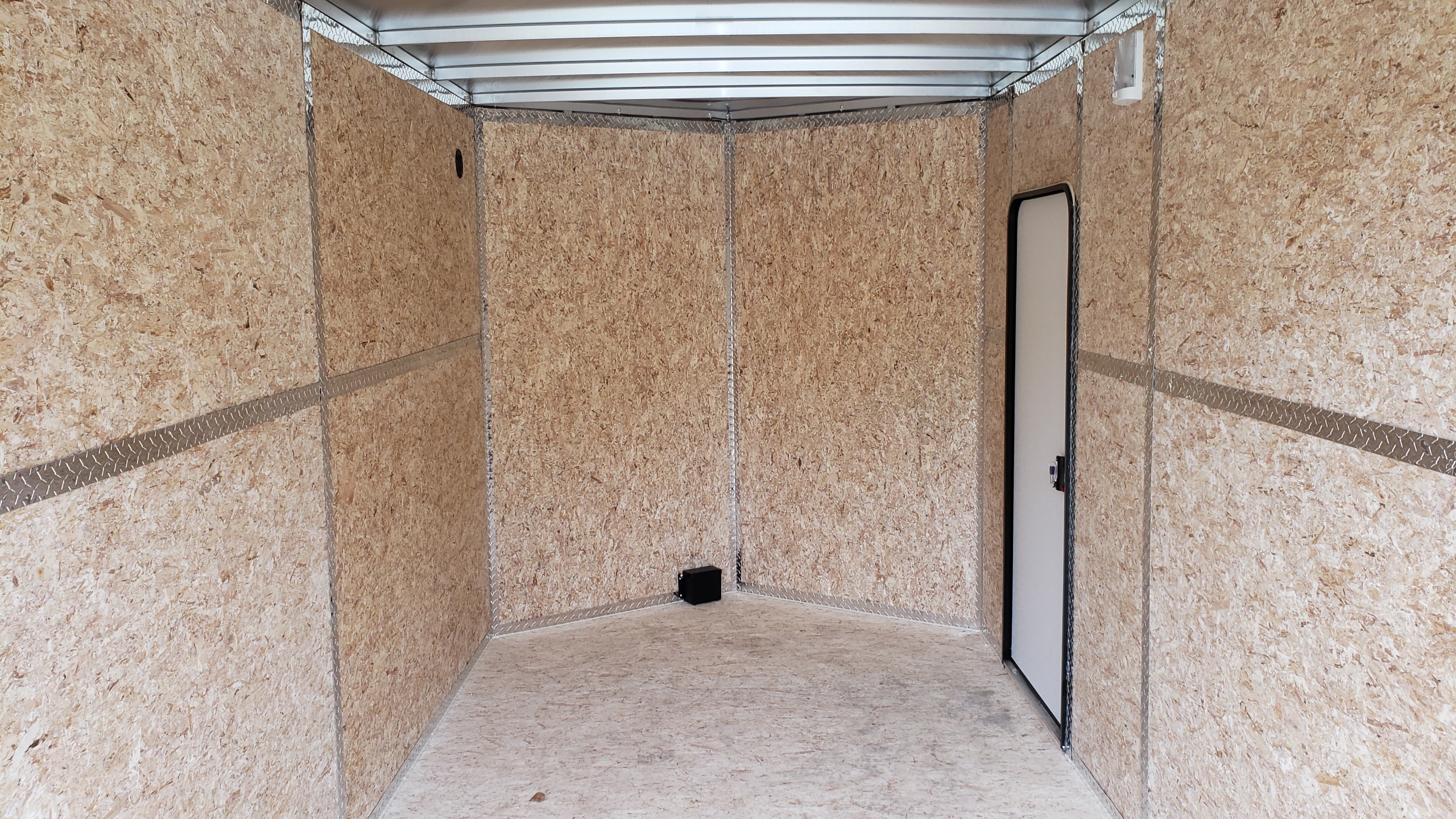 7X16TVTA35 – LEGEND THUNDER V-NOSE CARGO
Premium Built Aluminum Cargo Trailer
The all aluminum tube construction of the Thunder enclosed cargo trailer is surrounded by a screwless aluminum exterior skin and a seamless one-piece aluminum roof. The trailer rides on Dexter axles and nitrogen filled radial tires delivering a more consistent and dependable tow. ATP fenders and stone guard as well as LED exterior lights enhance both performance and appearance.
TRAILER DETAILS:
HEIGHT: 6″ ADDITIONAL, 84″ INTERIOR HEIGHT
MAIN FRAME: 4″ MAIN FRAME
FLOOR CROSS MEMBERS: 24″ OC FLOOR
WALL STUDS: 24″ OC WALLS
ROOF BOWS: 24″ OC ROOF
SAFETY CHAIN: CANADIAN COMPLIANT SAFETY CHAIN
TANDEM AXLE: 3500# 5-BOLT TORSION BRAKE 95.5/82 #234
HITCH: 2 5/16″ COUPLER
TRAILER CONNECTOR: 7-WAY ROUND 8′
TIRES & WHEELS: RADIAL SILVER 14″ 5-BOLT ST205/75R14
TONGUE JACK: 2000# W/ JACK FOOT
REAR DOOR: RAMP
SIDE DOOR: RADIUS 30X68 CURBSIDE/ BLACK FRAME
SIDE DOOR HOLD BACK: PLASTIC
DOOR HARDWARE: ZINC RAMP DOOR HARDWARE
FLOOR COVERING: 3/4″ ENGINEERED WOOD
REAR DOOR COVERING: 3/4″ ENGINEERED WOOD
INTERIOR WALLS: 3/8″ ENGINEERED WOOD
STRIPE OPTION: SINGLE COLOR W/NO ACCENT STRIPE
SKIN THICKNESS: .030 ALUMINUM SKINS
SINGLE COLOR: WHITE
FENDERS: 10″ X 68″ TA ATP FENDER
STONE GUARD: 24″ X 97″ ATP
SIDE VENTS: (1 PAIR) PLASTIC FORCED AIR SIDE VENTS: BLACK
DOME LIGHTS: (1) RECTANGULAR LED DOME LIGHT
ROOF: 82.5″
STANDARD FEATURES —
HIGHLIGHTS:
16" ATP Stone Guard
A-Frame Tongue w/ Center Tube Support (32")
ATP Fenders
Plastic Door Holdback
One Piece All-Aluminum Roof
Zinc Door Hardware
Bonded Smooth Exterior
2' V-Nose
OVERALL DIMENSIONS
Models 7×16
Overall Length 216"
Overall Width 102"
Overall Height 97″
Interior Box Length + V 14'+2′
Interior Box Width 79″
Interior Height 78"
Width Between Fenders 79″
Rear Door Type Ramp Door
Rear Door Height 76"
Rear Door Width 74"
WEIGHTS:
Estimated Empty Weight 1,630#
GVWR 7,000#
Payload 5,370#
RUNNING GEAR:
Estimated Empty Weight 1,630#
GVWR 7,000#
Payload 5,370#
STRUCTURAL:
Cross Members Size 2″ x 3″ Tube
Cross Member Spacing 24″ OC
Frame 2″ x 4″ Perimeter Tube
Roof Bow Size 1″ x 1.5″ Radius Tube
Roof Bow Spacing 24″ OC
Roof Profile Flat Top
Roof Type One Piece All Aluminum
Wall Stud Size 1″ x 1.5″ Tube
Wall Stud Spacing 24″ OC
FLOORS/SKINS:
Floor 3/4" Engineered Wood Panel
Interior Walls 3/8" Engineered Wood Panel
Exterior Skin Bonded, Screwless, .030 Alum.
ELECTRICAL:
Dome Lights 1 Euro Dome
Exterior Lighting Type Surface Mount LED
COMPONENTS:
Coupler 2 5/16″ A-Frame
Jack 2,000# Top-Wind
Fenders ATP Teardrop
Side Door 30″ Curbside RV w/ Flush Lock
Storage Optional
Vents 2 Plastic Side Air Vents
Also available Travel Trailers, Cargo Trailer, Utility Trailers, Car Haulers and Equipment Trailers.
Trades accepted and Financing options available.
Contact us today at 902-736-1300 or 902-578-1698!
Year
2019
Specifications
Mileage
0.0
GVWR
3175 KG
# of Axels
2
Disclaimer

ALTHOUGH THIS SITE CHECKS REGULARLY WITH ITS DATA SOURCES TO CONFIRM THE ACCURACY AND COMPLETENESS OF THE DATA,
IT MAKES NO GUARANTY OR WARRANTY, EITHER EXPRESS OR IMPLIED, INCLUDING WITHOUT LIMITATION ANY WARRANTY OR MERCHANTABILITY
OR FITNESS FOR PARTICULAR PURPOSE, WITH RESPECT TO THE DATA PRESENTED IN THIS REPORT. USER ASSUMES ALL RISKS IN USING ANY
DATA IN THIS REPORT FOR HIS OR HER OWN APPLICATIONS. ALL DATA IN THIS REPORT ARE SUBJECT TO CHANGE WITHOUT NOTICE.