(close) X
Run Slideshow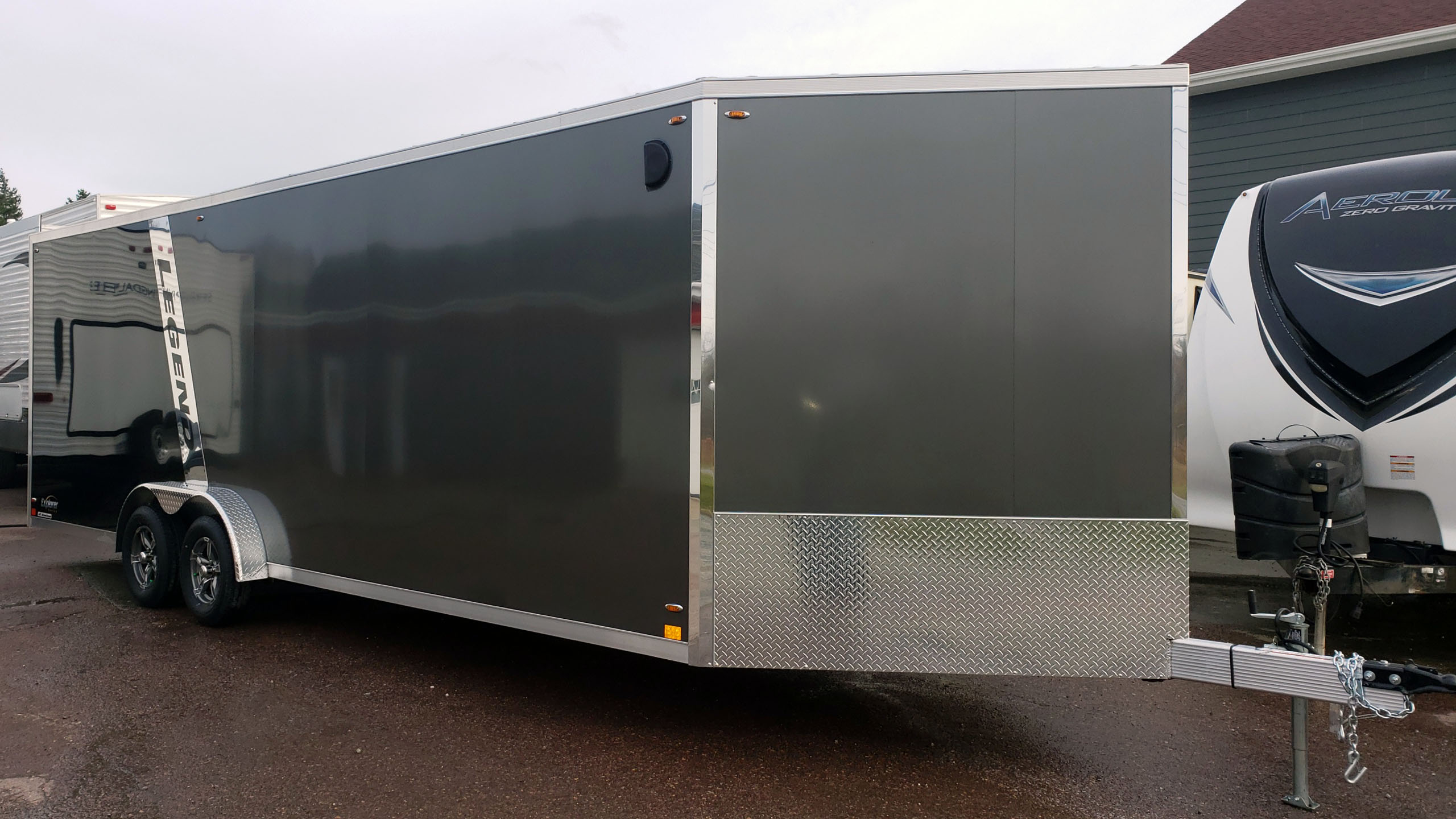 Condition: New
Stock #: LG022-L1317439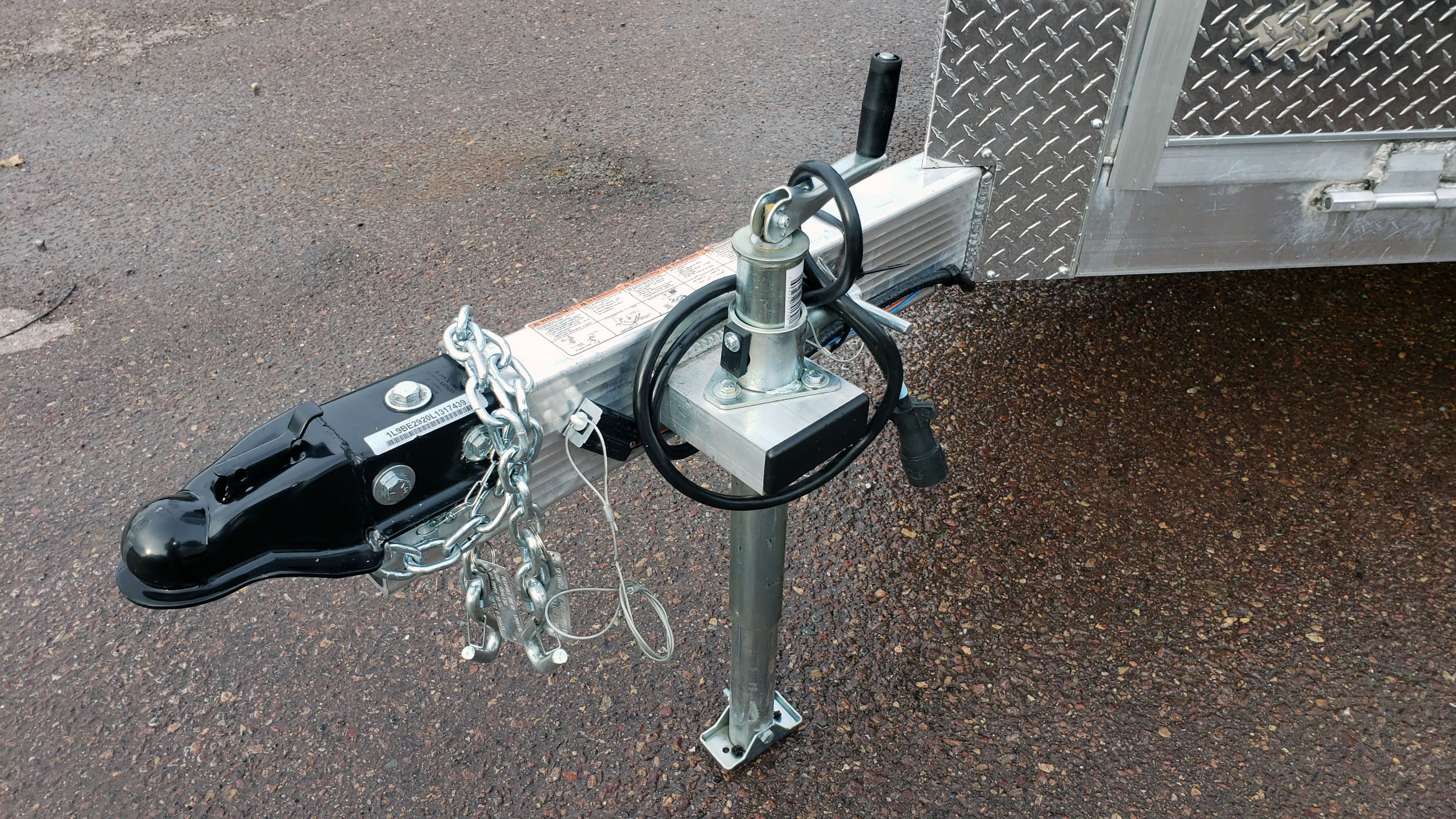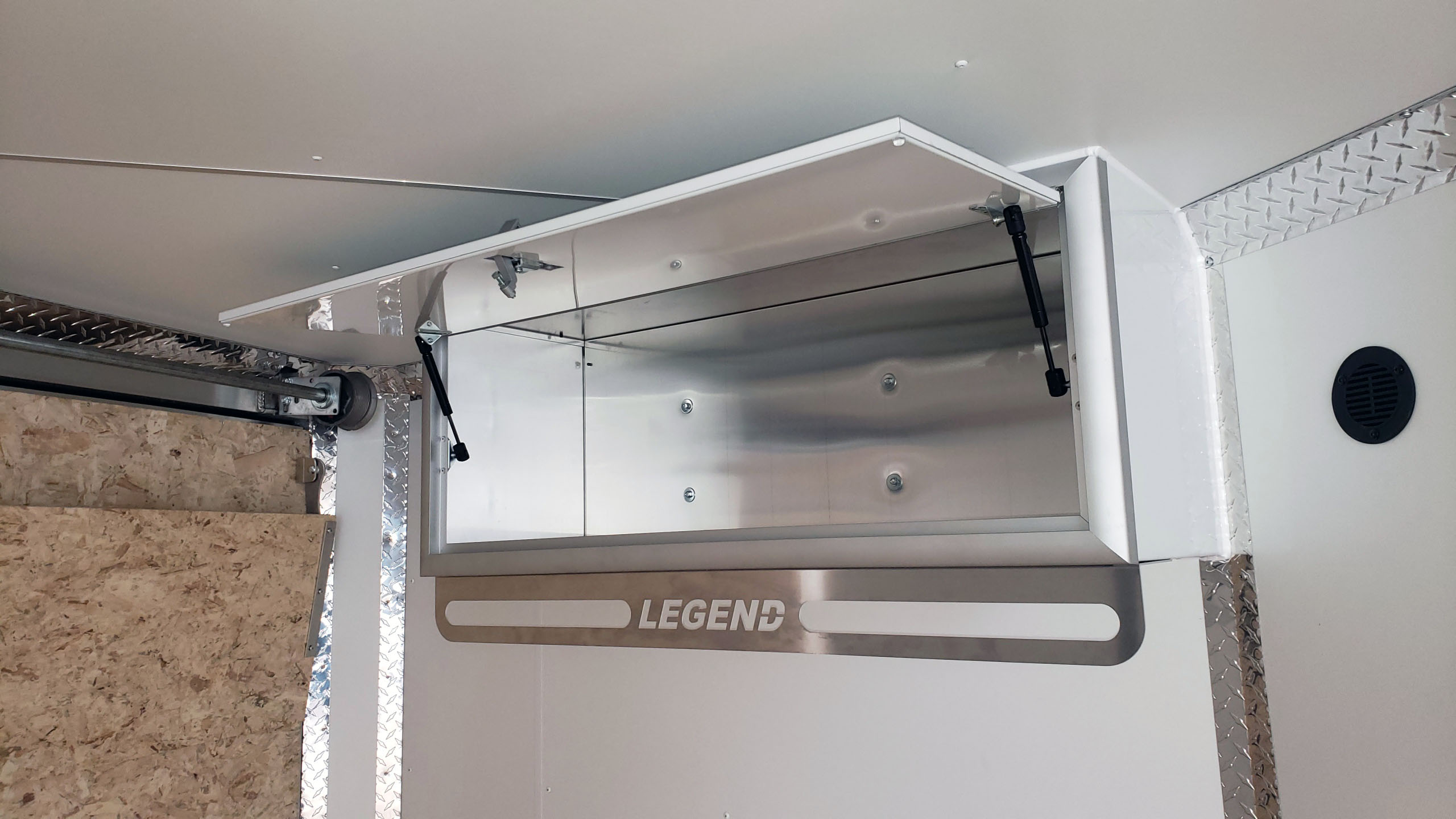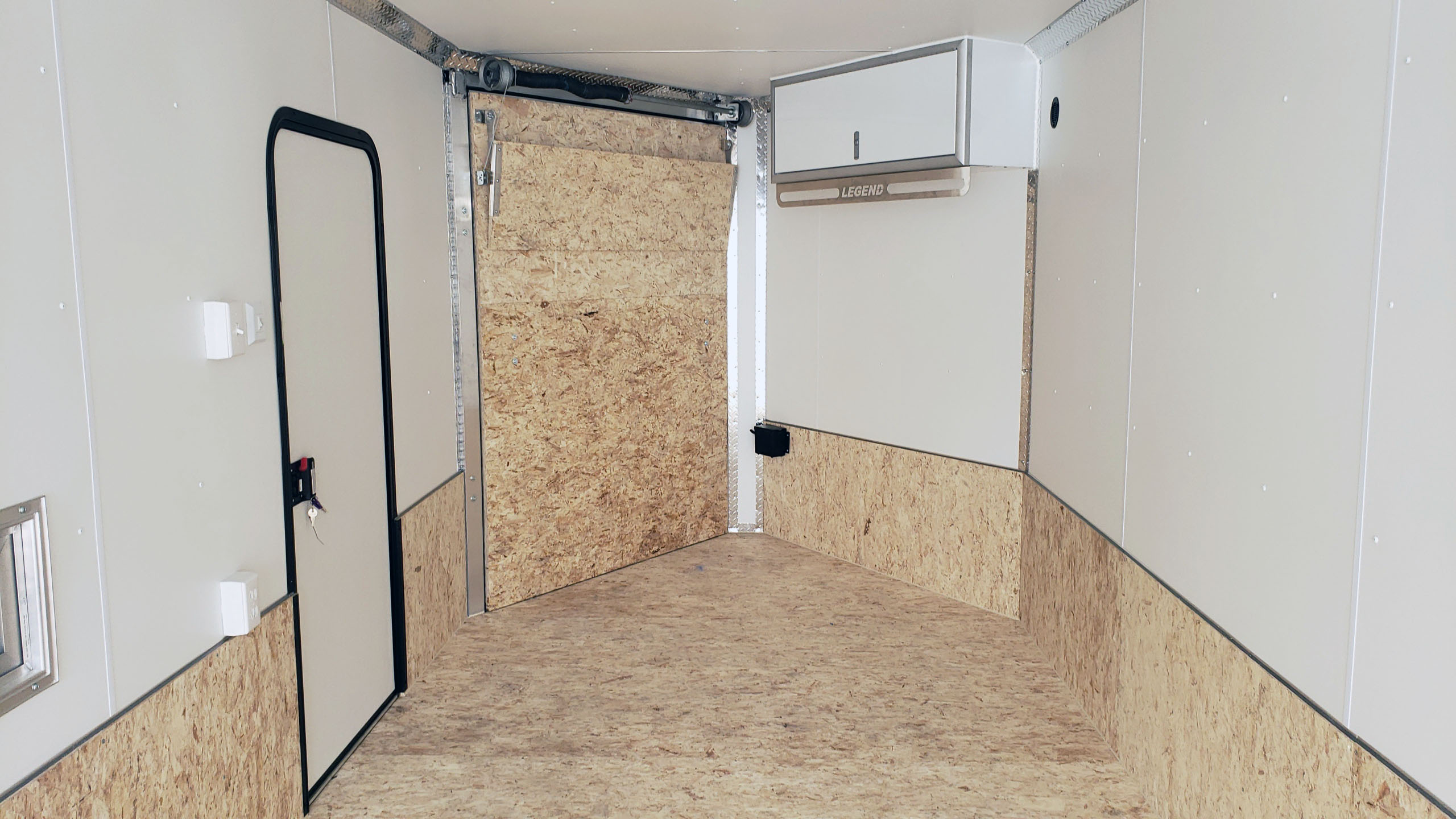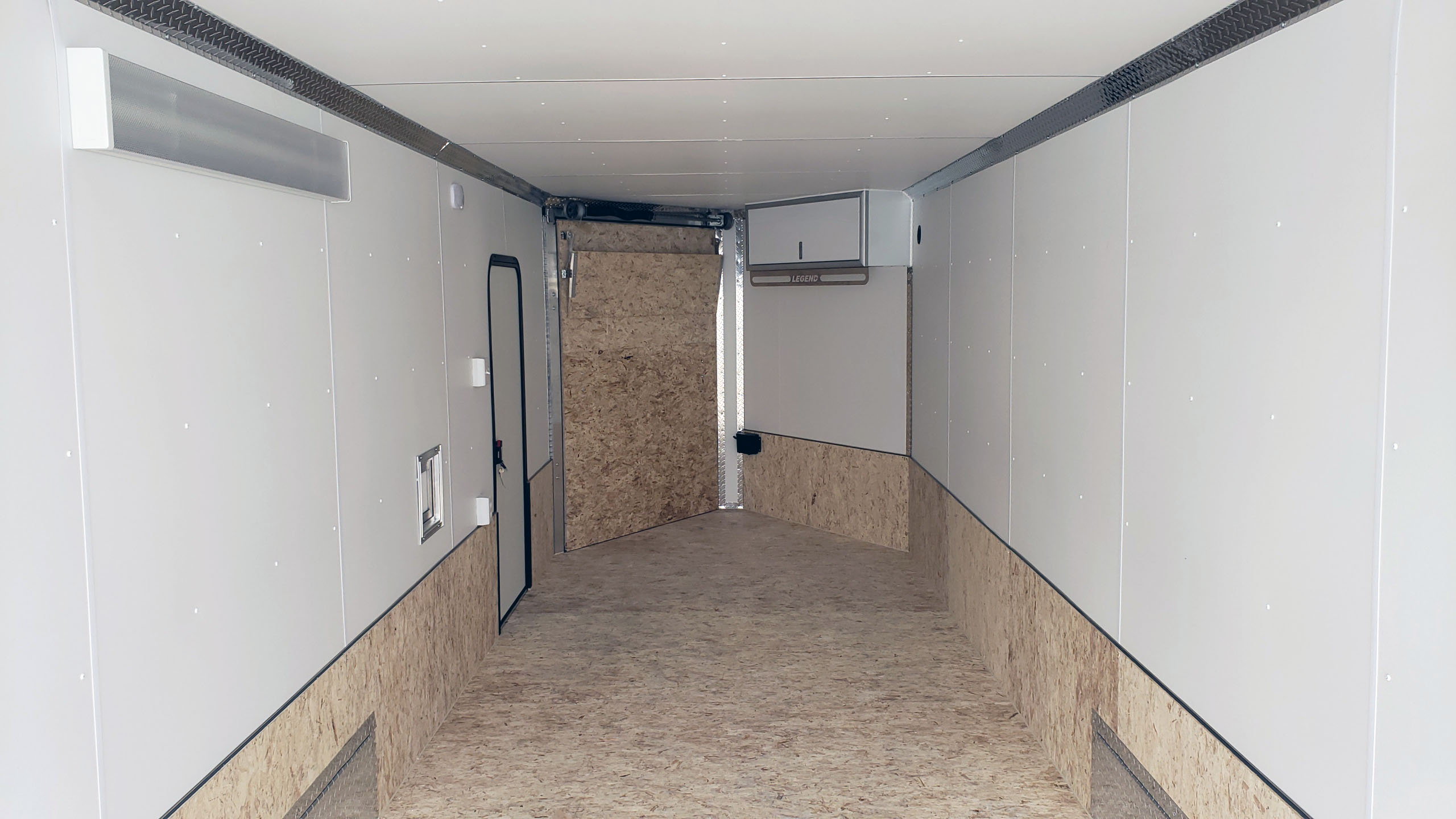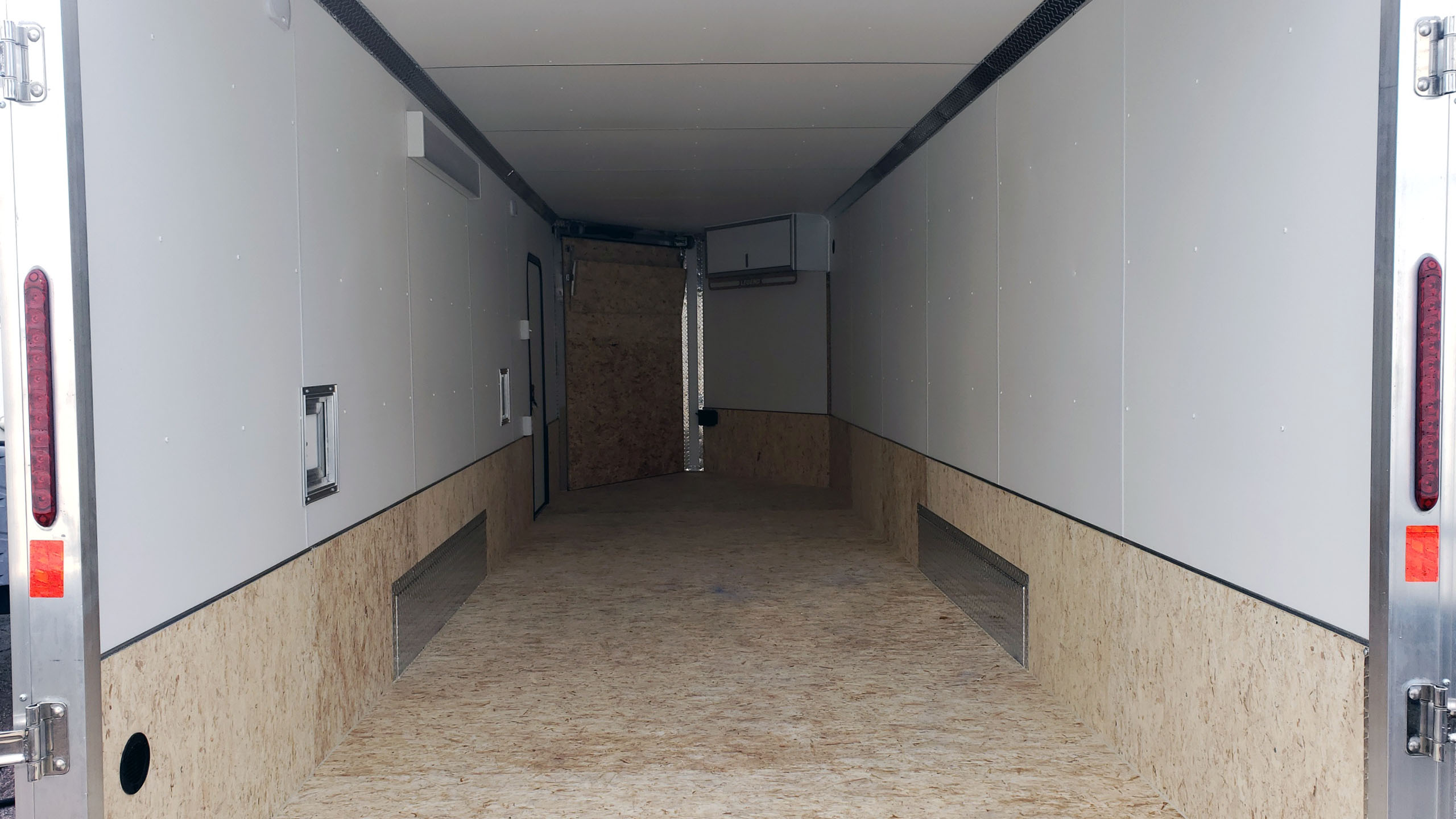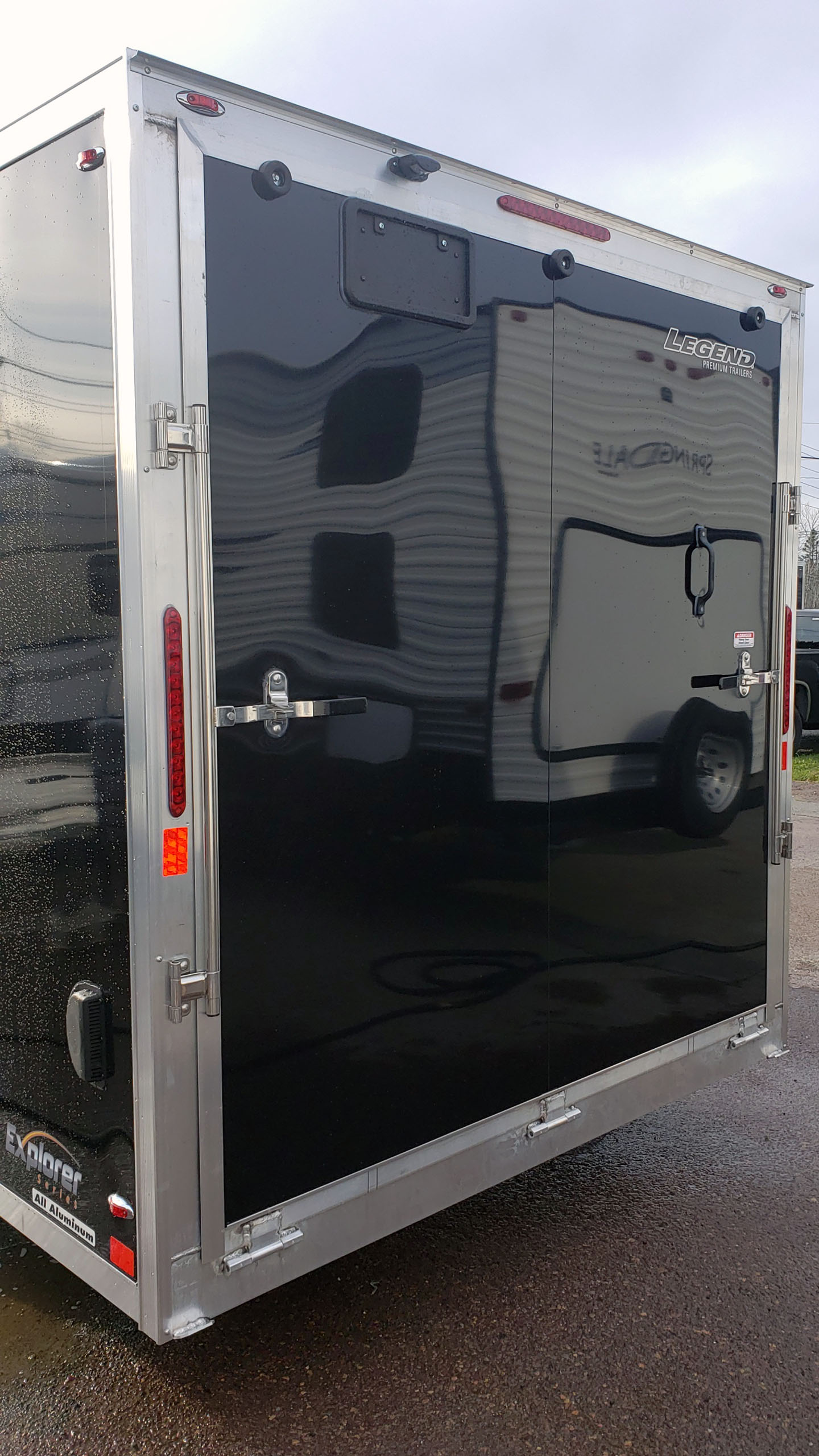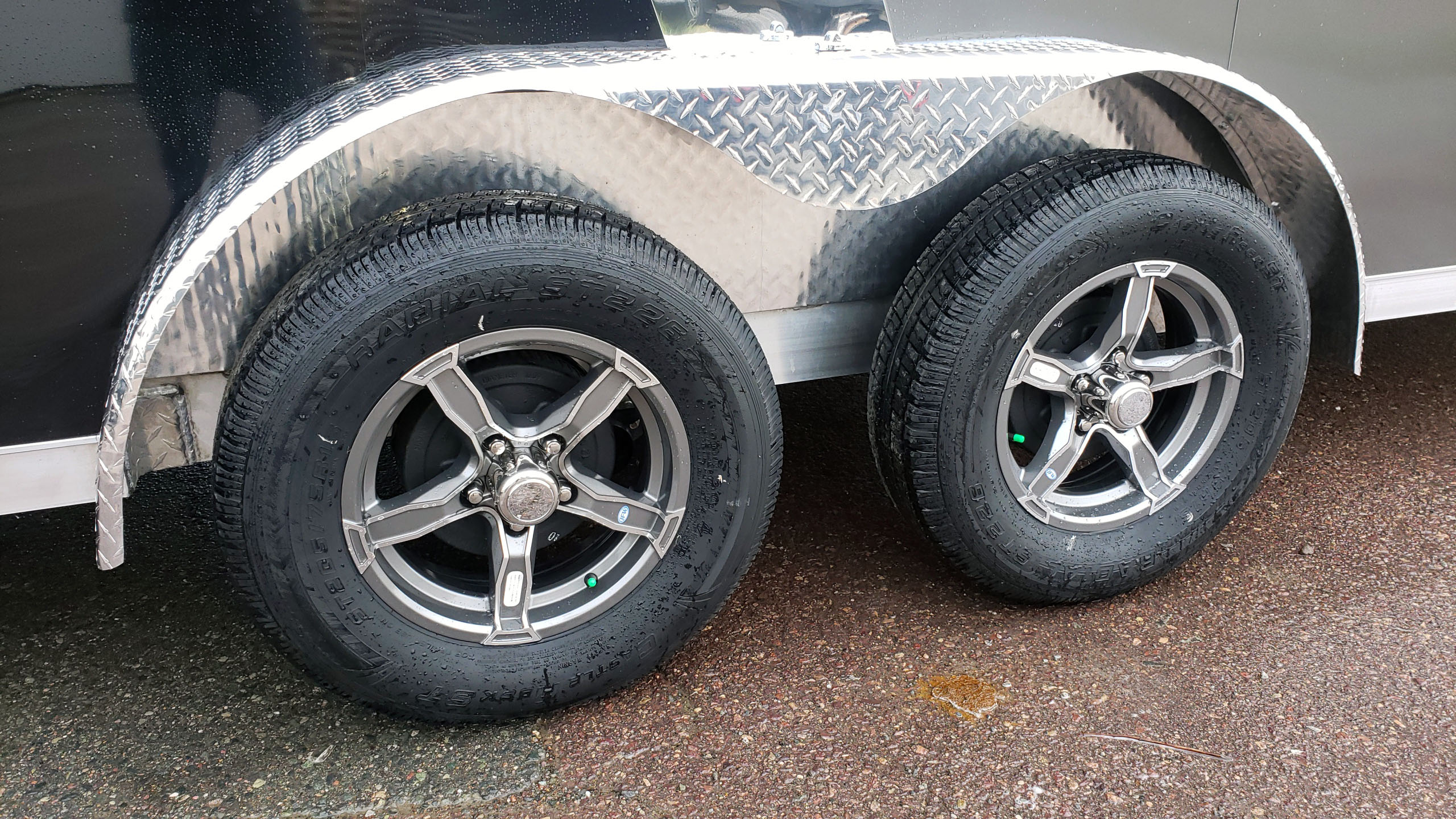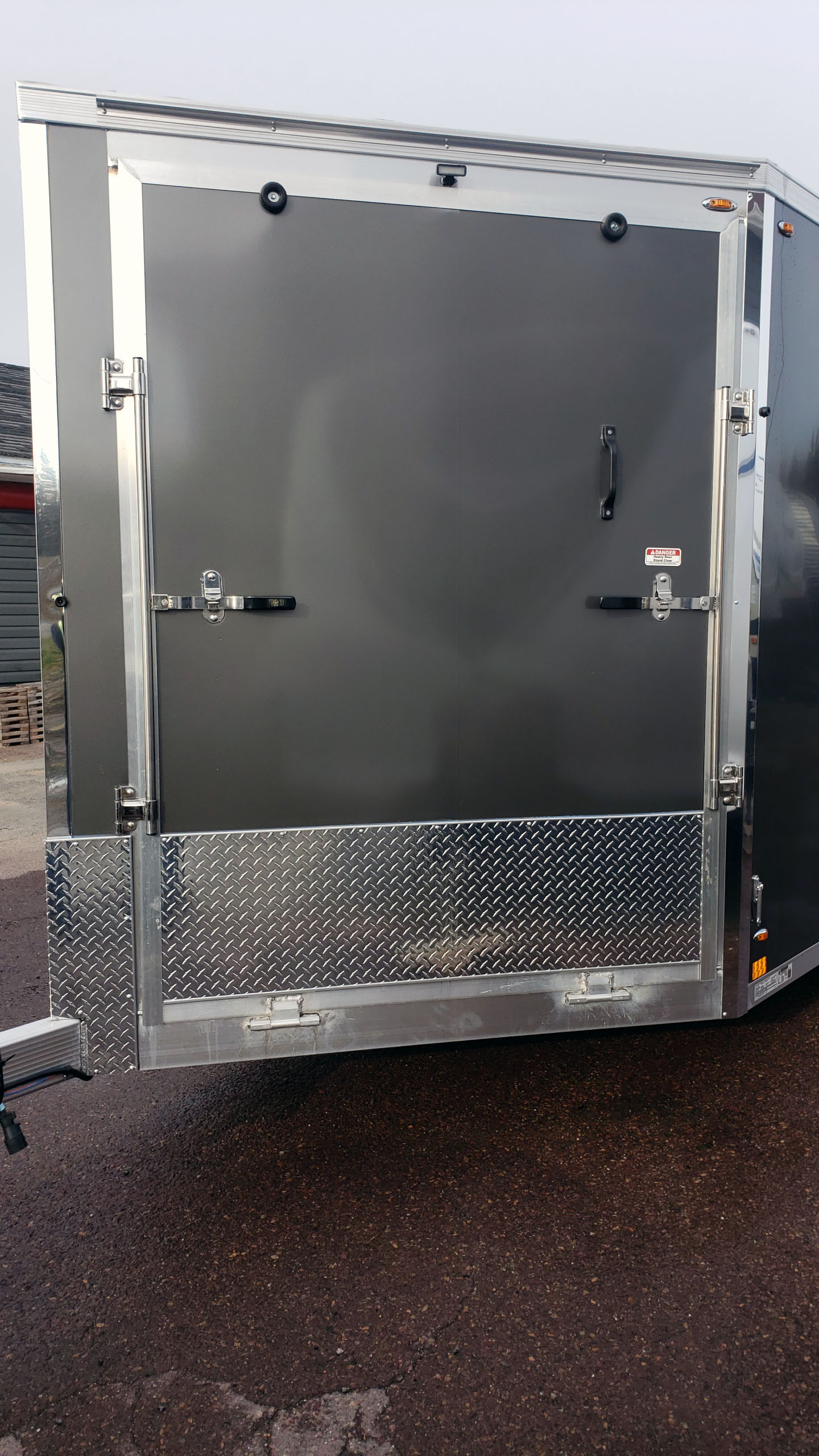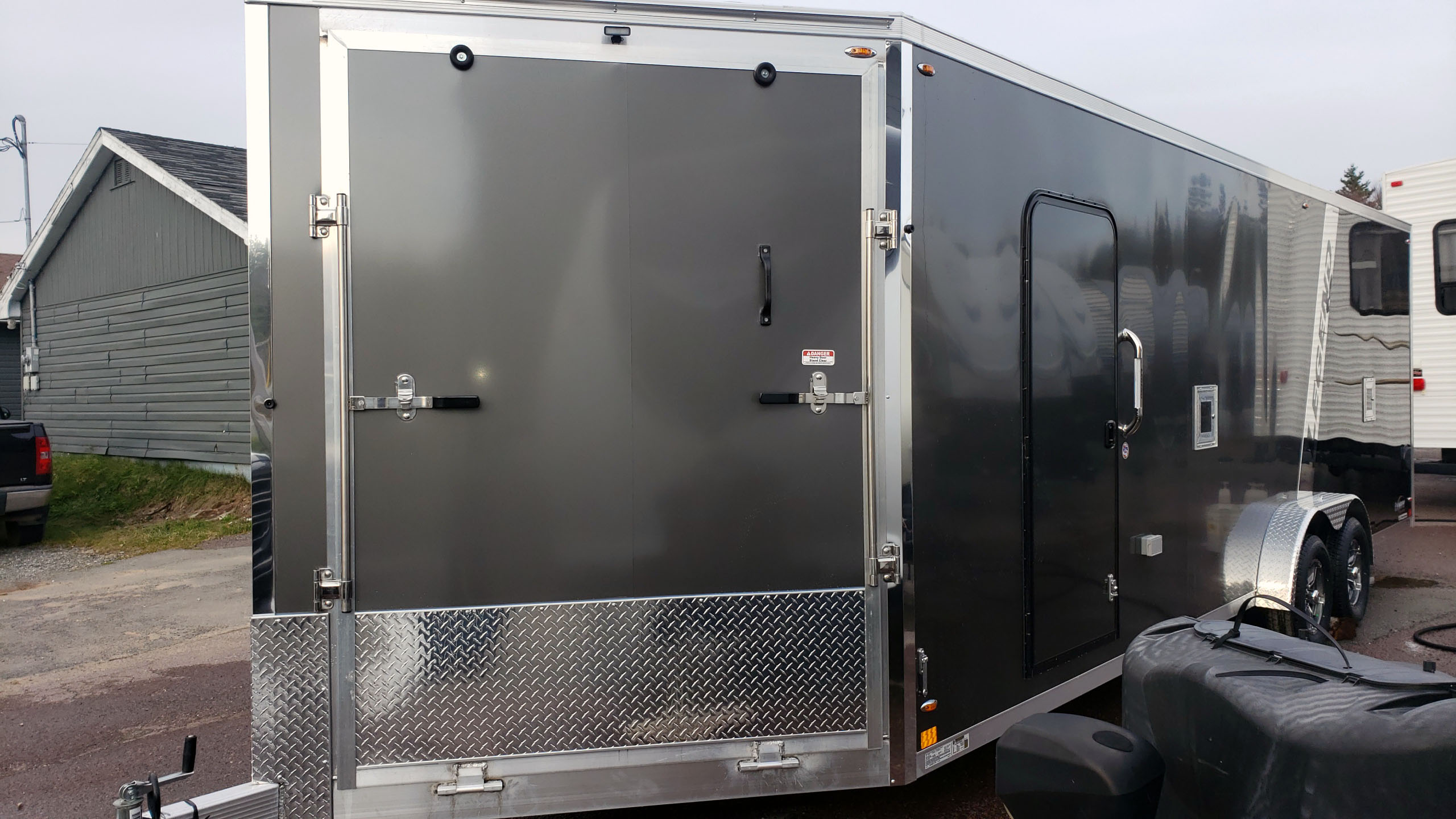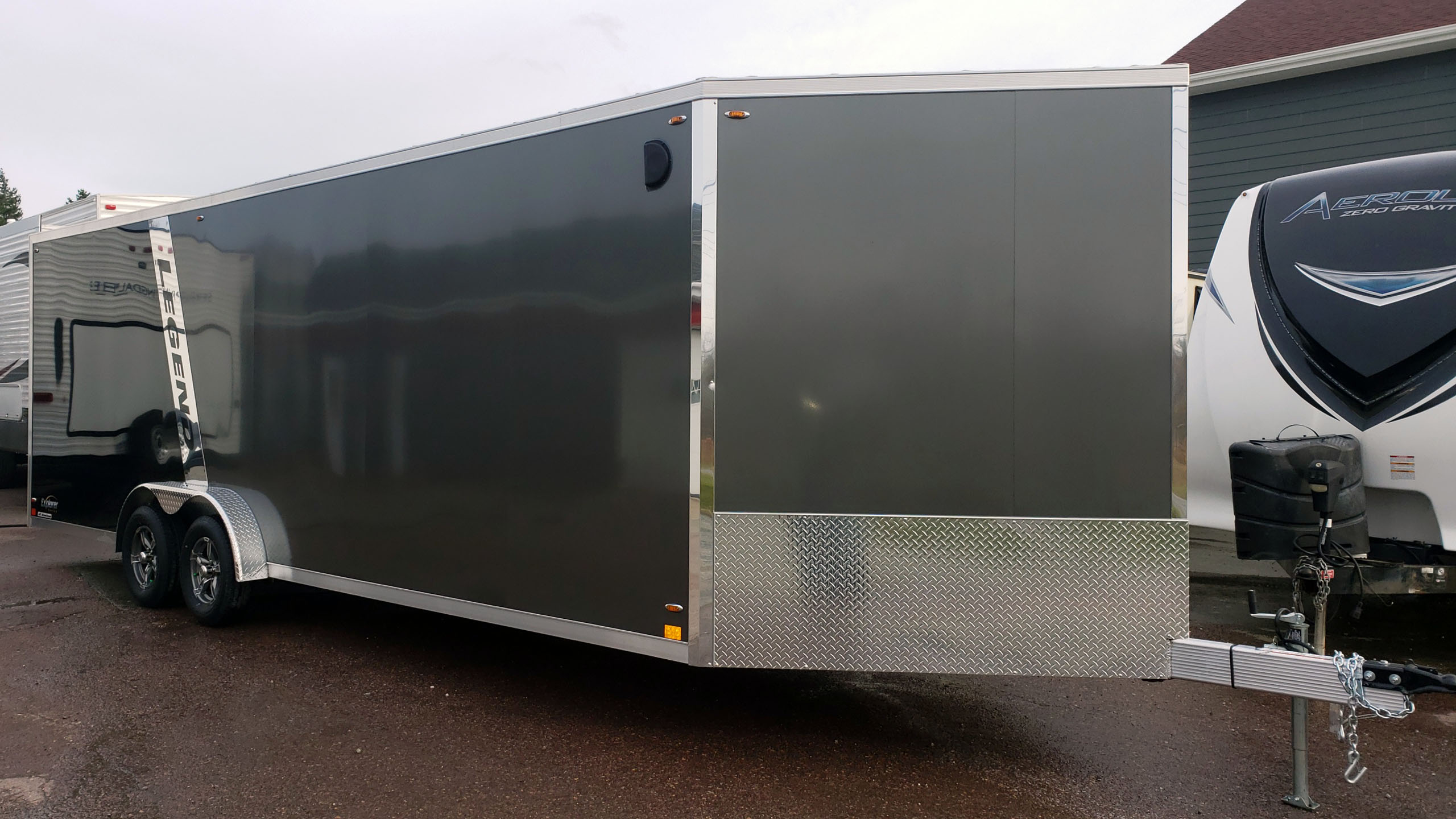 LEGEND EXPLORER SNOW – ALUMINUM ENCLOSED SPORT
Common Uses: Snowmobiles, ATV/UTV, Powersports, Lawn & LandscapeStepping up from our Thunder series is our #1 selling snowmobile trailer, the all aluminum Explorer Snow trailer. You'll find all of the features and components in our Thunder V-Nose series plus too many to list.  Standard two tone wall colors with divider strip, lighted grab handle, white vinyl walls and ceilings, and stainless steel door hardware are just a few of the many standard upgrades on this amazing value. The Explorer Snow has everything you need to hit the trails in style this season.
MODEL: 7X29ETA35
COLOR: CHARCOAL/BLACK
GVWR: 7000LB
GAWR(EACH AXLE): 3500LB
RIM: 15X5JJ
TRAILER DETAILS:
HEIGHT: 6″ ADDITIONAL: 84″ INTERIOR HEIGHT
MAIN FRAME: 6″ TUBE
FLOOR CROSS MEMBERS: 16″ OC FLOOR
WALL STUDS: 16″ OC WALLS
ROOF BOWS: 16″ OC ROOF
SAFETY CHAIN: CANADIAN COMPLIANT SAFETY CHAIN
TANDEM AXLE: 3500# 5-BOLT TORSION BRAKE 95.5/82 #234
HITCH: 2 5/16″ COUPLER WITH AXLE UPGRADE
TRAILER CONNECTOR: 7-WAY ROUND 8′
TIRES & WHEELS: RADIAL GUNMETAL ALUMINUM 15″ 5-BOLT ST205/75R15
TONGUE JACK: 2000# ULTIMATE JACK WITH FOOT
FRONT DOOR: RAMP
REAR DOOR: RAMP
SIDE DOOR: RADIUS 30X68 ROADSIDE / BLACK FRAME
SIDE DOOR HOLD BACK: ALUMINUM
DOOR HARDWARE: S/S RAMP DOOR HARDWARE
DOOR HARDWARE: (1) LEGEND LIGHT GRAB HANDLE
ACCESS DOORS: (2) ACCESS DOOR
SKID PADS: SKID PADS AT REAR CORNERS
FLOOR COVERING: 3/4″ ENGINEERED WOOD
REAR DOOR COVERING: 3/4″ ENGINEERED WOOD
RAMP FLAP: FRONT AND REAR SPORT
INTERIOR WALLS: BUTLER WHITE VINYL
INTERIOR TRIM: ATP INTERIOR TRIM
KICKPLATE: 24″ TALL 3/4″ ENGINEERED WOOD
CEILING: BUTLER WHITE VINYL CEILING
STRIPE OPTION: TWO TONE W/ACCENT STRIPE AND DECAL
SKIN THICKNESS: .030 ALUMINUM SKINS
FRONT COLOR: CHARCOAL
REAR COLOR: BLACK
NOSE AND CORNERS: CHROME
FENDERS: 7″ X 68″ ATP FENDER
STONE GUARD: 24″X 86″ / 17″ X 60″ POLISHED ATP
SIDE VENTS: (1 PAIR) PLASTIC FORCED AIR SIDE VENTS
DOME LIGHTS: (2) RECTANGULAR LED DOME LIGHTS W/12V SWITCH
LOADING LIGHTS: (1) FRONT RAMP LED LOADING LIGHT
110V PACKAGE: BRONZE
OVERHEAD CABINET: (1) 44″ DELUXE CABINET W/CLOTHES BAR – WHITE
(1) EXTERIOR POWER INLET/(1) INTERIOR OUTLET BACK TO BACK BEHIND ENTRY DOOR
(1) 48″ LED INTERIOR LIGHT CENTERED BETWEEN REAR AND ENTRY DOOR HIGH ON WALL
(1) WALL SWITCH AT ENTRY DOOR
Also available Travel Trailers, Cargo Trailer, Utility Trailers, Car Haulers and Equipment Trailers.
Trades accepted and Financing options available.
Contact us today at 902-736-1300 or 902-578-1698!
Year
2020
Specifications
Mileage
0.0
Color
CHARCOAL/BLACK
GVWR
7000LB
# of Axels
2
Disclaimer

ALTHOUGH THIS SITE CHECKS REGULARLY WITH ITS DATA SOURCES TO CONFIRM THE ACCURACY AND COMPLETENESS OF THE DATA,
IT MAKES NO GUARANTY OR WARRANTY, EITHER EXPRESS OR IMPLIED, INCLUDING WITHOUT LIMITATION ANY WARRANTY OR MERCHANTABILITY
OR FITNESS FOR PARTICULAR PURPOSE, WITH RESPECT TO THE DATA PRESENTED IN THIS REPORT. USER ASSUMES ALL RISKS IN USING ANY
DATA IN THIS REPORT FOR HIS OR HER OWN APPLICATIONS. ALL DATA IN THIS REPORT ARE SUBJECT TO CHANGE WITHOUT NOTICE.